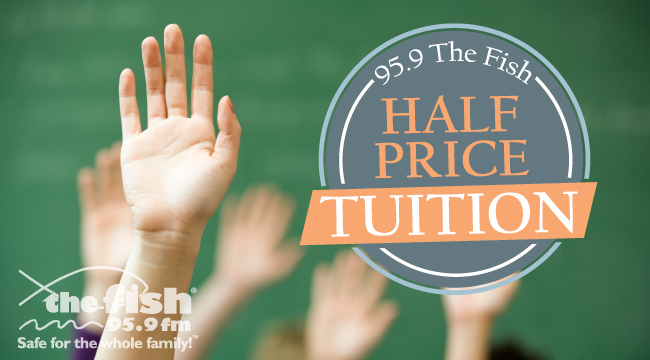 A Quality Education for Less
We know how much you value your child's education. We also know how hard it can be sometimes to balance the importance of that education with the cost. That's why we started the Fish Half Off Tuition campaign.
It's our mission to work with private schools throughout the Los Angeles area to provide tuition for families at half the normal cost. We work with all kinds of schools in the city and in the suburbs. These offers are exclusive to us, and the number of vouchers are limited.
It's our desire to provide your family with excellent educational value.
For more information on any of the schools on the website or for questions about qualifications, please call Chris Jones at (714) 796-4458.
— TheFishLA.com
Welcome Radio Listeners
We're so excited to welcome the families who heard about us on The Fish.
We've partnered with a number of schools in the Los Angeles area that share your desire for a quality education.

Phone number for purchasing tuitions will be posted:


February 10, 2015 at 8am


LIMITED TUITIONS AVAILABLE



View 95.9 The Fish HALF PRICE TUITION in a larger map




Each tuition voucher is valid for the tuition cost for attendance at the specified school for the 2015-2016 Fall through Spring academic year (not including summer school). All other costs of attending the school, including books and supplies, uniforms, and fees to participate in sports or events, are not covered by the voucher and are the responsibility of the student and his or her parent or guardian. Only one voucher per school may be purchased or used by a household or family. Each voucher may only be used by a new student not enrolled or in the enrollment process at the specified school prior to February 10, 2015. Purchase of a voucher does not guarantee admittance for a student to the specified school, and the student must meet all school admission, attendance, and conduct requirements to enroll and attend throughout the school year. The voucher is not transferable, and may be used only by a family or household member of the purchaser. The voucher is not returnable or redeemable for cash, except if a school confirms to KFSH that a prospective student with a voucher completed all application requirements but was not admitted to the school, in which case upon request by the voucher purchaser KFSH will refund the cost paid to KFSH for the voucher. The voucher purchaser should consult with his or her tax advisor concerning the tax treatment of payment of tuition using the voucher.